Midland Estate Planning Attorney
Preparing You and Your Family for the Future
Everyone needs a plan for the future. Who will get your assets when you pass away? Who will be responsible for taking care of your children? Who will represent you in probate court? If you become unable to communicate, who will make decisions about your healthcare? Estate planning gives you the tools to create legally enforceable answers to each of these questions and more. A quality estate plan will protect your and your loved ones' interests both while you are still alive and after you pass away.
Our Midland estate planning attorney at The Stuart Firm can help you build a robust estate plan from scratch or update existing documents. We have a complete understanding of effective estate planning tools and can advise what documents will help you protect yourself and your intentions. Our team can also help to reduce or eliminate the impact of probate, the process by which your assets can become entangled in protracted, ugly disputes. Our goal is to give you and your loved ones the peace of mind that you need and deserve.
Call (432) 284-4411 or contact us online to get started with our estate planning attorney in Midland, TX.
Why You Need an Estate Plan in Texas
You likely have clear ideas about what you want to happen to your home, your car, and your children once you are gone. Thinking about these things and going through the process of formally articulating them can be uncomfortable, but it is essential that you have an estate plan in place.
Passing away without an estate plan means that your wishes will not be honored. Your property will become subject to Texas's intestacy laws, which means that they will be divided based on objective guidelines divorced from any intentions you may have had. In most cases, your property will be evenly distributed amongst your surviving children and spouse. Should you not have children or a spouse, your assets will likely go to your siblings, parents, or any other surviving relatives. Any specific intentions you may have had for your property, even if they were verbally or informally shared, will be ignored. Additionally, you will have no say in who will care for your children.
Establishing an estate plan gives you the chance to define what happens to your assets and interests once you pass away. Our Midland estate planning attorney can help you understand what tools you will need to protect your and your loved ones' futures.
Wills in Texas
A last will and testament, or a will, is a common estate planning tool that allows you to determine what happens to your interests after you pass away. Through a will, you can designate a guardian for your minor children and select beneficiaries of your property. You will also be able to name a personal representative that manages your estate and the contents of the will once you are gone.
Some mistakenly assume that you can simply write down your wishes and expect them to be honored as your last will and testament. Texas will recognize handwritten, or "holographic" wills, but they must be penned entirely in the testator's handwriting and signed. To avoid unnecessary conflict over the validity of the will, the document should ideally be signed in the presence of two witnesses. Texas does not require that wills be notarized, but doing so can also help avoid disputes later on.
Though wills are popular and serve as the foundation for many estate plans, they have inherent limitations worth considering. The contents of a will are considered a matter of public record, meaning anything you write can be viewed by anyone. Conflicts can arise when someone contests the legitimacy of the will, often by claiming the testator was not "of sound mind" when it was written and formalized. Any assets named in a will are also subject to the probate process.
A frequent mistake when creating an estate plan is assuming a will is all that you need. Formalizing a will is an essential step in estate planning, but it is often beneficial to explore additional tools. Our team can help you draft an initial will or update an existing one. We can also walk you through how your will can work in tandem with trusts and other estate planning instruments.
Trusts in Texas
Trusts are in some ways similar to wills in that they allow you to distribute assets to beneficiaries once you are gone. They also offer several advantages over wills.
Benefits of trusts include:
Privacy. Unlike wills, trusts are not public record, and its contents will only be known to the trustee and its beneficiaries.
Enhanced Control. Trusts come in many forms and provide a great deal of flexibility in deciding how assets can be distributed. For example, your trust can authorize the distribution of assets when certain conditions have been met.
Avoiding of Probate. Assets placed in trusts avoid probate entirely, meaning your loved ones will receive your property faster and without any of the disputes, delays, or costs associated with the process.
Tax Efficiency. For larger estates with high value assets, estate taxes can sometimes limit what your beneficiaries inherit. Assets placed in trusts are generally exempt from any tax considerations.
Trusts can be used in tandem with wills to create a thorough level of protection. A trust cannot name a guardian to minor children, and a trustee will manage the trust itself, you will still need a personal representative to settle your estate with the government. Trusts can also only protect the assets that you place in them. Any property not associated with a trust will need to be addressed in a will to avoid becoming subject to intestacy laws.
Powers of Attorney and Advanced Healthcare Directives in Texas
Many feel they do not need to worry about estate planning until they are older. While it is not pleasant to consider, it is possible that one could become seriously injured or ill at basically any time. The onset of an unexpected illness or a devastating car crash could leave you incapacitated and unable to advocate for yourself.
Should you become unable to communicate, you will want to have formal legal documents in place defining what is to happen to you and who gets to make decisions on your behalf. Powers of attorney designate who gets to make these calls when you cannot make them yourself.
An agent with financial powers of attorney has the ability to conduct business and transactions on your behalf. You can assign responsibilities to your designated agent that take effect in the event you become incapacitated. These responsibilities can be as limited as paying any recurring bills and fielding relevant phone calls or as a vast as making decisions regarding your business interests.
Medical powers of attorney give the chosen agent the responsibility of making decisions regarding your healthcare. You can provide them specific instructions for possible and anticipated situations – such as whether or not to resuscitate – through advanced healthcare directives. Without medical powers of attorney in place, decisions about your medical care will often come down to the discretion of the available medical staff and any immediate relatives that can be reached.
Choosing agents for medical and financial powers of attorney is an important decision that should be considered carefully. We can help you evaluate potential candidates and help draft formal, enforceable language consistent with your goals.
Why You Must Regularly Update Your Estate Plan
As you grow older and your relationships change, so should your estate plan. Your intentions at one point in time might be vastly different several years later.
You should regularly update your estate plan after any material change in circumstances, including:
A divorce or marriage
The birth or adoption of a child
The death or estrangement of a named beneficiary
A move to another state
A significant change in your economic situation, including a gain or loss of assets
Even if no substantial change has occurred, it is still generally a smart idea to review your estate plan every few years. We can guide you through the process of assessing existing estate planning documents and performing any needed revisions.
Make a Plan with Our Help
Our Midland estate planning lawyer at The Stuart Firm is prepared to assist you with all of your estate planning needs. Whether you are starting from square one or need help updating your plan, our team has a full knowledge of relevant state and federal laws and can work to ensure your estate planning documents are helping you achieve your goals.
Schedule a initial consultation with one of our estate planning attorneys in Midland, TX at (432) 284-4411 or contact us online today.
What Sets Us Apart?
The Difference at The Stuart Firm
Experienced in the Courtroom

Client-Focused Representation

Aggressive & Compassionate Representation

Serving Spanish-Speaking Clients

Over the Phone & Zoom Consultations Available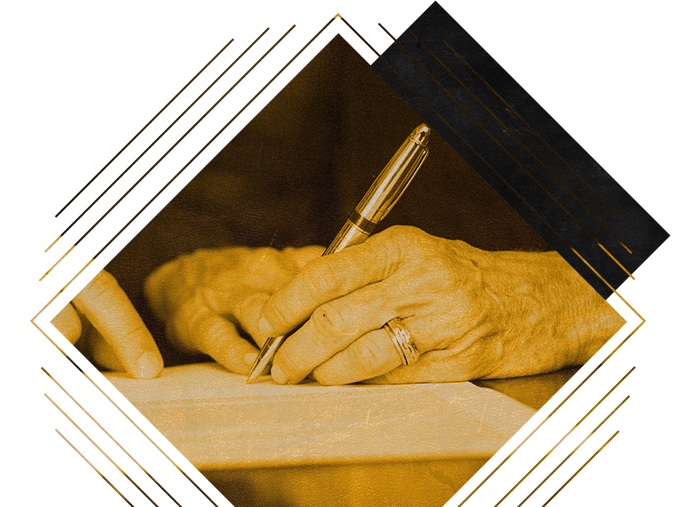 Schedule a Consultation
We understand that the disputes facing you, your family or your business can seem daunting. It is our goal to put you at ease.